Transfers from Lyon to La Plagne
Our transfer service can take you to the resort, La Plagne. To learn more about our transfer Lyon to La Plagne services, and what you can expect after your La Plagne transfer, read on.
La Plagne for Your Winter Holidays
La Plagne, together with its neighbor, Les Arcs & Peisey-Vallandry, creates the Paradiski ski area. On average, La Plagne gets its fair share of visitors with over 2.5 million people coming here during a season. The massive snow area covers of three resorts offer runs of 425 kilometers. These are great for the families, and more intermediate skiers, and there are 130 lifts to take up and down.
After your transfer Lyon to La Plagne, you will find eleven different villages that are spread all over a gentle yet large plateau by a fairly steep mountain. For families, this place is the perfect choice with a large number of apartments along with catered chalets. You'll find a lot of visitors during the high season.
La Plagne, on its own has runs of 225 kilometers, which include a good amount of gentle and wide slopes. You will find the eleven villages to be different in terms of character and identity. Plagne Centre and Belle Plagne are the center of attraction for the ski resort.
What's It Like to Ski in La Plagne
Half of the reason to visit a skit resort is having fun out there with your skis. La Plagne doesn't disappoint in this regard. If you're an intermediate skier, or a beginner, you'll love the villages namely Plagne Centre, Plagne Bellecote, and Belle Plagne. You'll enjoy the experience quite a bit if you are skiing in your second or third week.
With the ability to ski both below and above the tree line, you can go to the end of the ski region to find decent visibility if you go between Montchavin or Plagne Montalbert. There's no reason to be upset if you are an expert skier since the off-piste area here is widely renowned. Majority of the off-pistes can be found on the terrain of the mountain.
La Plagne's southern face has high probability of getting avalanches. It is always advised to keep a guide with your during the rides. Experience at Biolley peaks, Verdons, and Grande Rochette can be unforgettable if you luck out with good snow.
There are 2 different areas for people in different skiing levels; Le Grand Park, which has 20 tables, and rails, and Le Petit Park designed for the novices.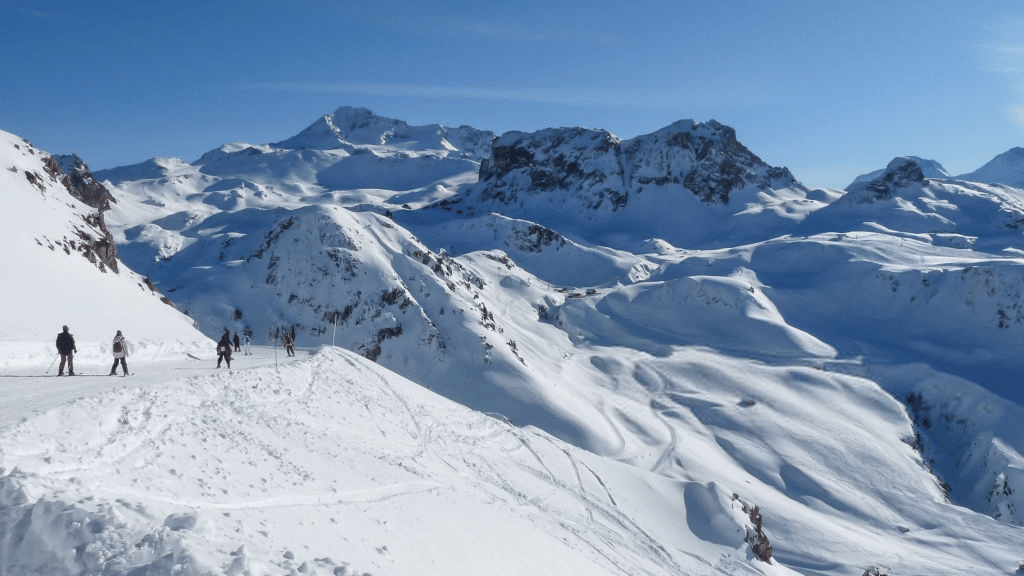 La Plagne Won't Leave You Empty-Handed
Apart from skiing, you'll be able to take part in various activities. Paragliding is first on our list, and combined with the sceneries of this region, you'll get to have a beautiful experience. The Natural spa at Belle Plagne is the perfect place to take a break from all of your skiing madness.
If you want a fun time with your friends or family, or both, the Escape Room can provide. You'll get to work in groups to solve a puzzle to exit a room. For an awesome night out, try out the Spitting Feathers located in Bellecôte. Among other cool activities, you can check out the Igloo experience, winter walks, airboarding, and ice skating.
Fees for Lyon Airport to La Plagne Transfer
You'll be able to acquire our transfer services if you want to transfer from Lyon to La Plagne. The ordering process for Lyon Airport to La Plagne transfer can be completed on our website. Once you reach the order page, fill out or choose the necessary information, and you'll be only a few clicks away from completing the order. For La Plagne transfer, the fees will be determined based on the transfer headcount, location, and whether you'll be ordering a round trip. The fee calculator will show you how much you have to pay for transfer Lyon to La Plagne.
Additional Perks of Our Transfers
Whether you are at Grenoble, Lyon, Chambery, or Geneva, we can take you to your favorite ski destination in the French Alps. For transfer Lyon to La Plagne, you'll be eligible for the following benefits offered along with our trips.
– We have expert drivers to provide a worry-free, smooth trip
– We provide special seats for children in the case you're traveling with a child
– We have drivers who are able to speak both in Russian & English
– We offer refreshments during the journey to your holiday destination
If you're feeling extra adventurous and in the mood for skiing, La Plagne is the perfect destination for a great experience. All of the details regarding ordering our services is given on this website. You can also email us if you have queries regarding our services.