Transfers from Lyon to Val d'Isere
Our transfer services offer pick-ups for ski transfer Lyon to Val d'Isere or any other resort of your choice in the Alps. To find out more about Val d'Isere transfers, and how the resort is for spending your winter holiday, keep on reading.
What to Expect from Val d'Isere?
Val d'Isere can be found in the Savoie region of southeastern France. It's specifically located in the Tarentaise Valley, five kilometers away from the Italian border. It forms the area called Espace Killy along with Tignes. The linked ski area provides over three hundred meters of pistes. There are seventy-eight lifts to help you to get moving around the resort.
There is something for all levels of skiers here, and the main village is located at 1850 meters. The highest slopes here reach up to 3400 meters. You'll find reliable snow cover here throughout long seasons. While you're in Val d'Isere, you have to keep in mind that the prices can be quite expensive.
You will get to meet people of various nationalities here in Val d'Isere. There are British, Scandinavians, Dutch, and people from many other nationalities coming to the resort every season. The village here stretches five kilometers, and you can attend the ski competition here during mid-December.
Guide to Skiing in the Val d'Isere Resort
Val d'Isere offers reliable snow cover, and Grande Motte and Pissaillas glaciers have enough height to ensure great conditions for skiing. The entire area of the resort is among the best in the world for skiing. Val d'Isere used to be a bad choice for the absolute beginners.
The Solaise summit was reshaped for making it more novice-friendly. But there's still a lack of easy slopes for the newcomers to work on. The color grade is different here as you should consider the colors one step more difficult than they usually are.
If you're a confident intermediate, you're going to love Val d'Isere with its comfortable skiing, and steepish runs. You will find new fun challenges here to do every day. You won't find long queues for the Olympique gondola, even during the crowded times. As mentioned before, keep the color gradings in mind. The blues will be feeling like red but that's just the nature of Val d'Isere.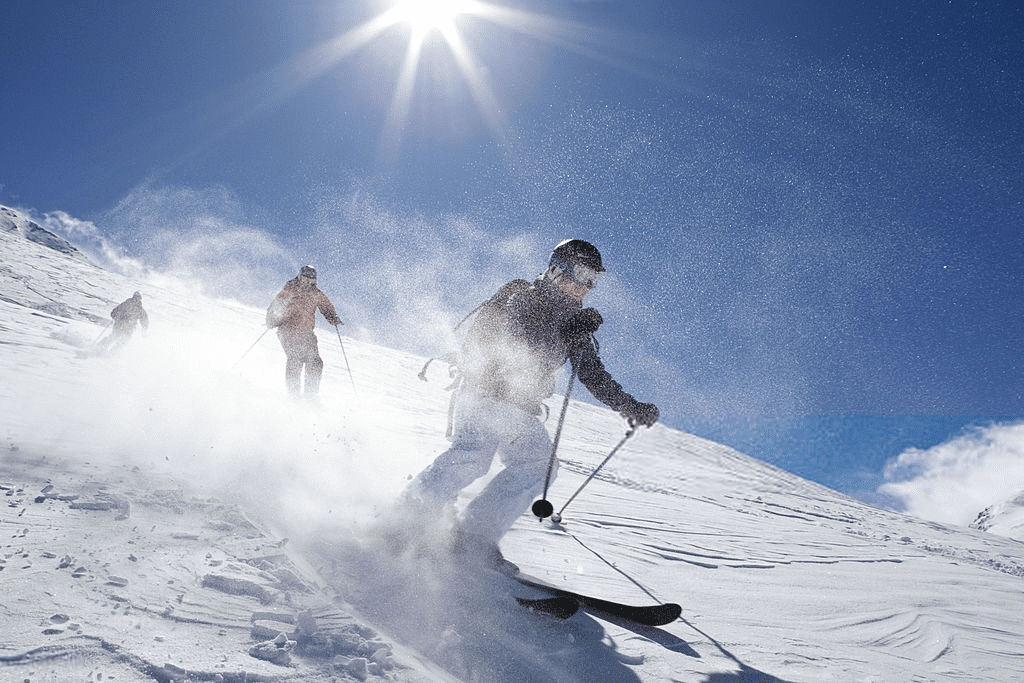 What Activities to Do in Val d'Isere?
Val d'Isere is more than just a ski resort. A great number of fun activities to do will quickly make you forget all about skiing here. First off, there's ice driving where you get to drive a BMW on an ice course. You can also head over to the circuit for ice karting next door. You'll be able to go nuts with your friends on the go-karts.
Once you get tired of skiing and running around, get up there for paragliding. It's an exhilarating experience you can get from companies like Oxygene, and Evolution 2. There are tons of walking trails in the resort, and Manchet Valley is a popular one. You'll find a beautiful frozen waterfall after seven kilometers of walking.
If you're no afraid of the cold try out ice diving up to eighty meters below the ice. Also, there are amazing restaurants for you to try out various dishes, ice skating, and ice climbing.
Fees for Ski Transfer Lyon to Val d'Isere
Our professional drivers can provide you Lyon Airport Val d'Isere transfer if you need it. The Val d'Isere transfers can be ordered through our website. You will find the ordering process to be fairly simple, and you can complete it in only a few clicks. For your order, you have to provide Lyon to Val d'Isere transfer time for pick up, the number of people to be transferred, and select whether you want a round trip or not. You will get a quotation based on the options you choose. Lyon to Val d'Isere transfer time is short and safe with our expert drivers.
Benefits of Traveling with Us
You can travel to the French Alps with us for short Lyon to Val d'Isere transfer time. Apart from the usual smooth and secure journey, you'll also be getting additional benefits from our Val d'Isere Lyon transfer. These benefits or perks are as follows.
– Child seats provided for private transfer Lyon to Val d'Isere
– Expert drivers for transfer from Lyon to Val d'Isere
– Refreshments for your Lyon to Val d'Isere transfer
– Drivers are proficient in both English & Russian for better communication
Val d'Isere is the perfect holiday destination if you're looking for a place to go with your family or friends. Book a transfer with us today with Lyon to Val d'Isere transfer time for pick-up, and we will pick you up at your desired timing. Also, let us know if you have any queries.