Transfers from Lyon to Les Menuires
Our ski transfer service can provide Lyon to Les Menuires transfers if you are looking for a reliable, safe trip. Read on to find out more about the Les Menuires ski resort, and our Les Menuires transfer service.
How is Les Menuires for a Holiday Trip?
Les Menuires is located at Belleville in the Three Valleys. It's between Val Thorens and Saint Martin de Belleville. There are sixty-two trails, forty-eight restaurants, and thirty-nine ski lifts in this resort. You'll find slopes here that suit both beginners and advanced skiers. The ski resort is located at 1850 meters, and has developed into a mainstream resort among others in the Three Valleys.
Les Menuires is directly connected to six hundred kilometers of piste. There are 180 lifts operating in this large ski area where the highest run peaks at 3230 meters. The original resort center is La Croisette and the buildings here got revamped. You'll find the restaurants and shops here to be easier on your pocket in comparison with the neighboring resorts.
This is the perfect resort for those looking to bring their family or friends along for a great skiing experience. The resort takes less of a toll on your wallet while providing a giant area for skiing. You can head over to Meribel and Val Thorens using the efficient and fast lift system. You'll get accommodation here mostly consisting of ski-in/out in La Croisette as well as the other newer satellites.
Skiing Guide for Les Menuires
You can ski on the two sides of the valley, and the peak here is at 2804 meters in Pointe de la Masse. This is in the west part for the town. The pistes here offer drops of one thousand vertical meters while holding the snow well. There's a ton of steep slopes here, but the intermediate skiers also get to experience the slopes. The resort recently created the blue piste named Le Bouquetin on the mountain top. This is to help the intermediate skiers experience a full drop with others.
Facing towards Val Thorens, there's an off-piste area on the Pointe's south face. This place is populated heavily by the locals, especially after storms. If it's not very cold, you have to reach the powder fast, because the sun will make the snow here heavy in no time. Also, the place is prone to avalanches, so you'd want to hire someone to guide you unless you're well-equipped and experienced.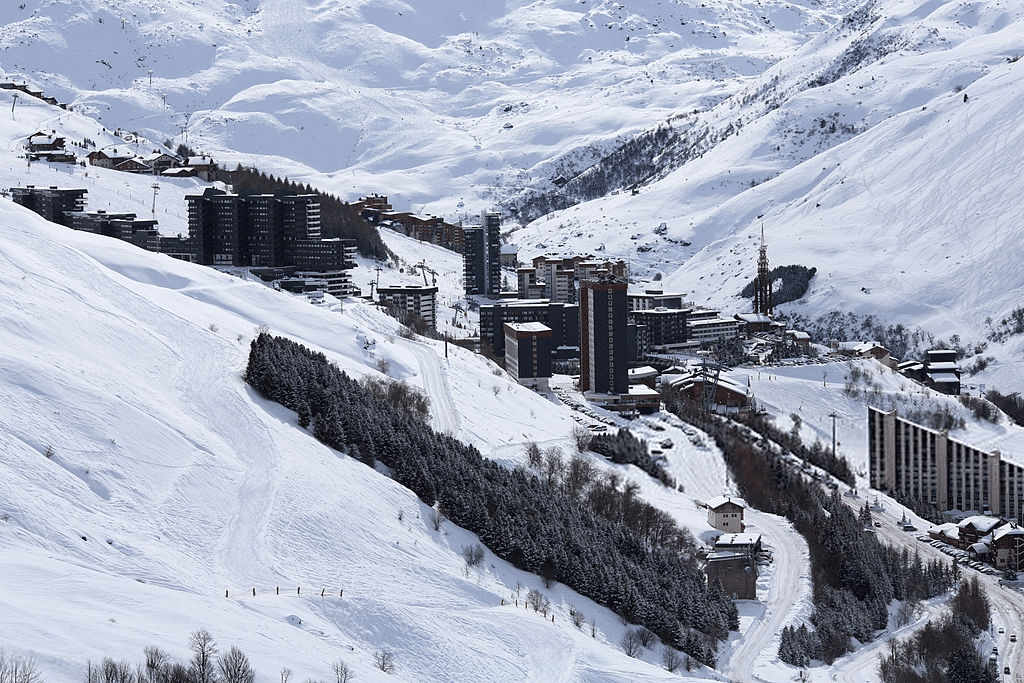 Things to Do While You're Not Skiing
From big air bag to Roc'N bike, you have a plethora of activities to try out in the Les Menuires ski resort. You can get some adrenaline going while you jump off on the giant air bag while trying out those 360 backflips. If that's not enough for you, head over to the Roc des Marches gondola, and ride a mountain bike down the pistes.
Next is the four kilometers long toboggan run named Roc'n Bob. It starts off from a high altitude for you to enjoy the beautiful sceneries. If you want a different perspective on Les Menuires, try out the quiet and peaceful paragliding over the snow mountains. There are qualified guides for tandem flights.
If you have energy to spare, you might want to head over to the sports center. There's a lot of room and equipment for you to try out. You can go to the well-being area if you want to enjoy the spa jets, Jacuzzis, sauna, and hammam.
Costs for Lyon to Les Menuires Transfers
We provide services offering transfer from Lyon to Les Menuires. You can order our services of ski transfer from Lyon to Les Menuires on our website here. We've provided an online calculator for finding out the fees for trips. You'll be able to put in your timings, destination, starting place, and headcount to find out the fee for your trip using our services for Lyon to Les Menuires transfers. We offer reasonable and competitive prices for our trips. We have also provided a round trip option in case you're interested in Les Menuires transfer to Lyon.
Benefits of Using Our Ski Transfers
We can ensure reliable ski transfers from different locations, such as Lyon, Geneva, Chambery, and Grenoble to the beautiful French Alps resorts. Apart from our hassle-free trips we also offer the following additional benefits with our services.
– Child seats on the off chance you're traveling with children
– Our drivers can understand and speak both in Russian & English
– We provide professional drivers for a smooth and safe trip
– Refreshments are provided for the journey in case you get hungry
Les Menuires is the perfect winter holiday destination for you and your family. If you're interested in ordering our transfer services you can visit our website. You can also contact us for any type of queries.