Transfers from Lyon to Meribel
We offer reliable and safe ski transfer services for Lyon to Meribel transfer while providing reasonable and competitive prices. To know more about the Meribel resort and our Meribel transfer services, keep on reading.
What Meribel Has In-Store for You
Meribel is located in the Savoie region of France, and more specifically in the Tarentaise Valley of the French Alps. The resort is a combination of three villages near Moûtiers town. These are Meribel Village, Meribel-Mottaret, and Meribel Centre. The villages are a part of the ski system of Three Valleys or Trois Vallées.
There's a ton of reasons to consider going to Meribel, such as the wooded surroundings, architecture of chalet-style, and friendly atmosphere in the villages. But the main reason is probably the fact that it is a part of the large Three Valleys ski area. To the west of Meribel is Val Thorens, and you can find La Tania, and Courchevel in the east.
Meribel Centre has altitudes ranging between sixteen and seventeen hundred meters and the highest place is called Altiport at 1700 meters. You can get to the lower locations on a bus. There is Les Allues at twelve hundred meters, Meribel Village at 1400 meters, and Meribel-Mottaret standing high at 1750 meters. You will find a lot of outlets for technical clothing here as well as shops with interior design and designer brands.
How is Skiing in Meribel?
There's plenty in Meribel for different levels of skiers. If you are a beginner, you would want to go to the Altiport. The snow here is good in the piste called Blanchot. It's mostly tree-lined, so the sun does not get to the snow much. Also, there's less traffic here to comfortably ski on the snow.
If you are an intermediate skier, you'd want to get to the La Pointe de la Masse, which is a gorgeous peak. You'll find it open as most of the skiers never go there. Blaireau piste is among the best areas, locally. You can find good snow during the morning time here, and you will find the place to be quiet.
For those who like off-pistes, there is a good amount of these here. You can find them at the valley's far end. Overall, there are things to enjoy wherever you look here.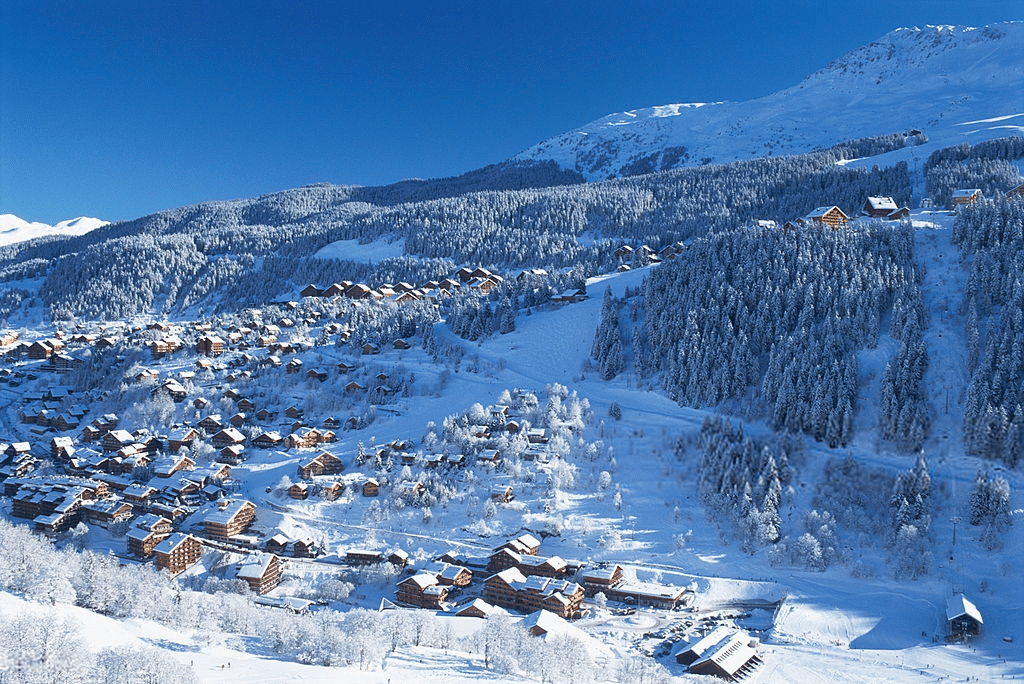 Non-Skiing Activities in Meribel
There's no need to worry if you don't want to ski in Meribel because you can find a lot of other activities here. Starting off, you'll be able to experience the panoramas from the summits of Meribel on foot and join your skiing friends. You can enjoy tourist flights here from Meribel's airfield. The flight takes you over the Three Valleys, and towards the ski resort, Les Arcs.
If you are in the mood for some professional dancing, singing, and champagne bottles flying around, head over to La Folie Douce. Hop on a snowmobile to get around the mountains for an adventure. There are also 25 kilometers of trails for winter walking, that link different villages.
You can enjoy Savoyard meals at mountain refuges with your friends, and then return on foot with a torchlight in hand or stay overnight. There's also snowshoe outing, and riding on horse-sleigh for those who are interested.
Fees for Lyon to Meribel Transfer
If you are looking for a hassle-free way of going to the Meribel resort you can consider our transfer service at reasonable pricing. It only takes a few clicks to order a trip on our website. You have to put in the number of people who are transferring, your starting location, pick-up timing, and your destination for the order. Our online calculator will show you the required amount of fees for different inputs. We also offer Meribel to Lyon transfer through a round trip option under the same order. For that, you will have to put in the timing for a return pick-up. All you have to do after the order is to be at the airport on time for the driver to pick you up.
Additional Perks of Our Transfer Services
You'll be able to enjoy our transfer services from different locations, such as Grenoble, Lyon, Geneva, and Chambery to the French Alps. In addition to our top-notch transportation, you will receive the following benefits from traveling with us.
– You'll get drivers who can speak in Russian & English
– We provide professional drivers to ensure a safe trip
– You'll receive refreshments for the transfer to Meribel
– If you travel with kids, we provide child seats for the trip
Why waste time at home this winter holiday season when you and your family can visit the beautiful Meribel resort? Order a Meribel transfer from Lyon with us today, and feel free to reach out to us in case you have any queries.