Transfers from Geneva to La Plagne
We provide transfer services for those who want to transfer from Geneva to La Plagne, and back. Let's find out more about our transfer services, and what you can expect to find in La Plagne.
What La Plagne Has In-Store for You
La Plagne is a beautiful ski area of the alpine valley in France. It is part of the Paradiski's area along with the Les Arcs resort. This is among the most visited ski areas as over 2.5 million people come here during a season. La Plagne is divided into 10 villages with their own specificities.
The resort opened back in 1961 and now stretches from twelve hundred to 3250m over the sea level. It offers pistes spreading 425km for skiers of all levels. It is the second biggest ski area you will find on the planet. The snow-park here is a special attraction, which includes 2 areas for freestylers.
You can visit here both during winter and summer holidays. There's, of course, skiing for you to enjoy here during winter. You'll be able to keep yourself entertained with various activities, such as tennis, climbing, mountain biking, paragliding, and hang-gliding during summer times.
The Skiing Situation in La Plagne
Skiing will be different depending on the village you are going to in La Plagne after your transfer from Geneva. Some of the areas are high in altitude while others are in lower heights near the older settlements.
Plagne Centre, Plagne Bellecote, or Belle Plagne would be a great choice if you're an intermediate or a beginner skier. You'll find them to be perfect if you have been skiing for around two to three weeks. There is plenty of time to work, and the gentle and wide pistes help with building confidence out there. During snowy or cloudy days, you can go to their edges to find good vision in the trees above Les Coches or Plagne Montalbert.
La Plagne is popular among the beginners, but you won't be disappointed as an expert skier here. You'll find off-piste challenging terrain on Bellecote's southern and northern flanks. A guide is a must if you want to go skiing around these parts as the southern part has a high risk of avalanches. The northern part is comparatively hard-core, and you need to traverse here carefully.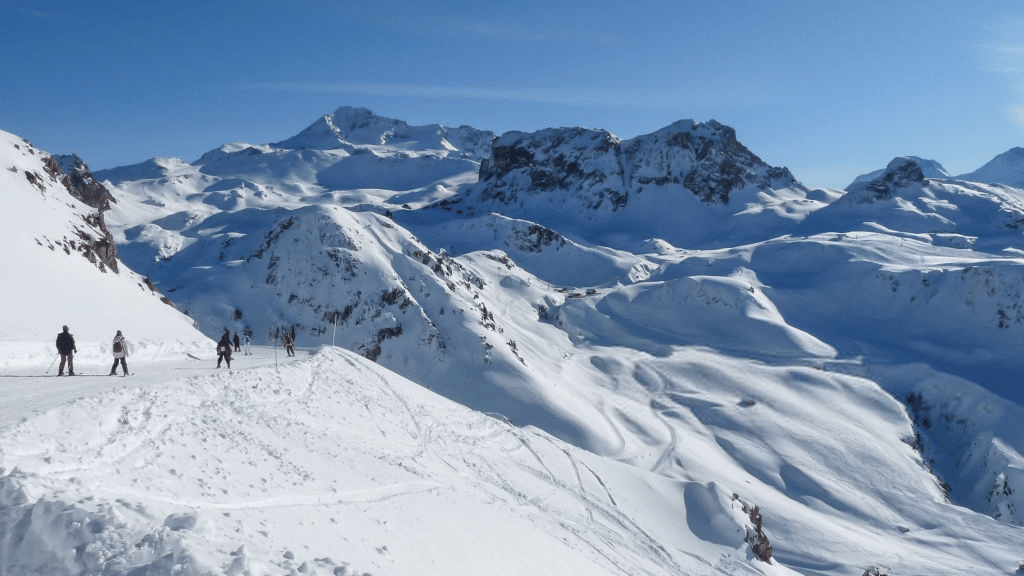 Fun La Plagne Activities You Can Try Out
Skiing is not the only fun thing to do while you are spending your holidays at La Plagne. The bobsleigh track here is among the best you will find with nineteen G-inducing turns and a length of 1.5 kilometers. You might even come across the national teams as they train here often.
Paragliding is another choice if you are interested. France's Savoie region consists of some of the most gorgeous views. You can access all of the spots using gondola. If you want to take a break from all the snow, there's the Nature Spa you can visit in Belle Plagne's center.
In Plagne Bellecote, there's the Escape Room you can give a try if you are with friends or family. 2 to 6 people's teams can take part in solving puzzles for completing a plot and then escape the room.
You can enjoy the quiet nightlife here at the resort, but there is also places like Spitting Feathers, and Bar La Mine, if you want great beers and music. Also, you get the opportunity to take amazing winter walks between the trees.
Air boarding and Ice Skating are two more activities you can try here. There's special set up for novices if they want to ice skate. Air boarding is a nice option for skiers here who want to feel the downhill rush alternative to skiing.
Costs for Transfer from Geneva to La Plagne
Our transfer services offer transfer Geneva to La Plagne at reasonable prices. We have ordering service on our website for transfer from Geneva to La Plagne for your convenience. Use our online calculator to find out the cost for your trip based on the location and number of people. We also provide transfer Geneva round trips so that you don't have to go through additional hassle of transfer to Geneva airport.
Benefits of Using Our Services
We take our customers from various places, such as Chambery, Geneva, Lyon, and Grenoble to the Alps resorts. With our services, we offer the following perks to offer great value to you for transfer Geneva to La Plagne.
Child seats for your kids
Refreshments during the transfer to La Plagne
Our drivers are experts at what they do
The drivers can speak both Russian & English
La Plagne is the perfect holiday destination for you and your family. If you are interested in our transfer Geneva services, reach out to us, or check the website for detailed info on our offers.