Our transfer service will drive you to the beautiful Courchevel resort from Geneva, and also back if you want. Read on, if you want to learn more about the resort, and the services we offer.
What You'll Find in Courchevel
Courchevel is a ski resort in the French Alps. Courchevel consists of four major areas or villages. These are Courchevel 1850, Courchevel 1650 or Moriond, Courchevel 1550, and Courchevel 1300 or Le Praz. All of these places are named according to their altitudes in terms of meters.
The names were recently renamed to Courchevel, Courchevel Moriond, Courchevel Village, and Courchevel Le Praz. We'll refer to the places by their older names since it'd be easier to separate the places that way. You'll find various differences among these areas as you transfer from Geneva.
Courchevel 1850 or simply Courchevel has its very own altiport, which suits helicopters and private jets. Air transfer from Geneva airport to here only takes about half an hour. You can find fourteen regular 5-star hotels here as well as three palace hotels of 5-star rating. This is an attraction point for the financial elites of the world, starting from wealthy Eastern Europeans, Swiss, Brazilians to famous Russians. The Courchevel 1850 is the place for you to posh-out.
Courchevel 1650 or Moriond is here to back you up if you need a cheaper option to stay. Though it's not by the main ski area, you'll be getting a quieter place to stay. You'll find it to be more peaceful during the high seasons. If you are not looking for a lively nightlife and are a beginner, this is the perfect place for you.
Courchevel 1550 or Courchevel Village is right below the 1850, and you get easy access to the main skiing area. This place has always been the go-to place for a cheap alternative to the 1850. However, it is getting redeveloped entirely to give the place an identity of its own.
Courchevel 1300 or Courchevel Le Praz is at the bottom of the pricing structure of Courchevel. It's also down there in the whole lift system. You can expect less snow-covering here during the season. This place is quite far from the actual skiing action in the 1850. Unless you get significantly low prices for stay here, try getting a stay in the other parts.
The cost or prices translate to almost everything here. You'll have to pay more and more as you go up the altitude. There are two or three exceptions in the highest areas, but you'll still be drilling holes in your pocket.
Get to Skiing Right Away in Courchevel
Once you get to Courchevel after ski transfer Geneva, skiing is among the top priorities when anyone is visiting the Courchevel resort. This is rightfully so since the slopes here would rank at the top in the French Alps. It's a perfect spot for intermediates as well as beginners.
The best time to ski here is during mid-winter, starting from Christmas till February. This helps to avoid the crowdedness that comes with the season start and end here. 1850 and 1650 are perfect for beginners with gentle running home, and British ski schools. However, you would have to choose between 1850's expensive, hectic experience and 1650's quieter, low-key option.
You'll find super-smooth and wide pistes flattering if you're a seasoned skier. The soothing greens and blues array in the central part will push even the beginners to go out there. There's plenty more too if you are an advanced skier looking for challenges. The Le Grand Couloir is notorious for being demanding in the icy conditions. Couloir Tournier is a similar pitch chute on the other part of the ridge.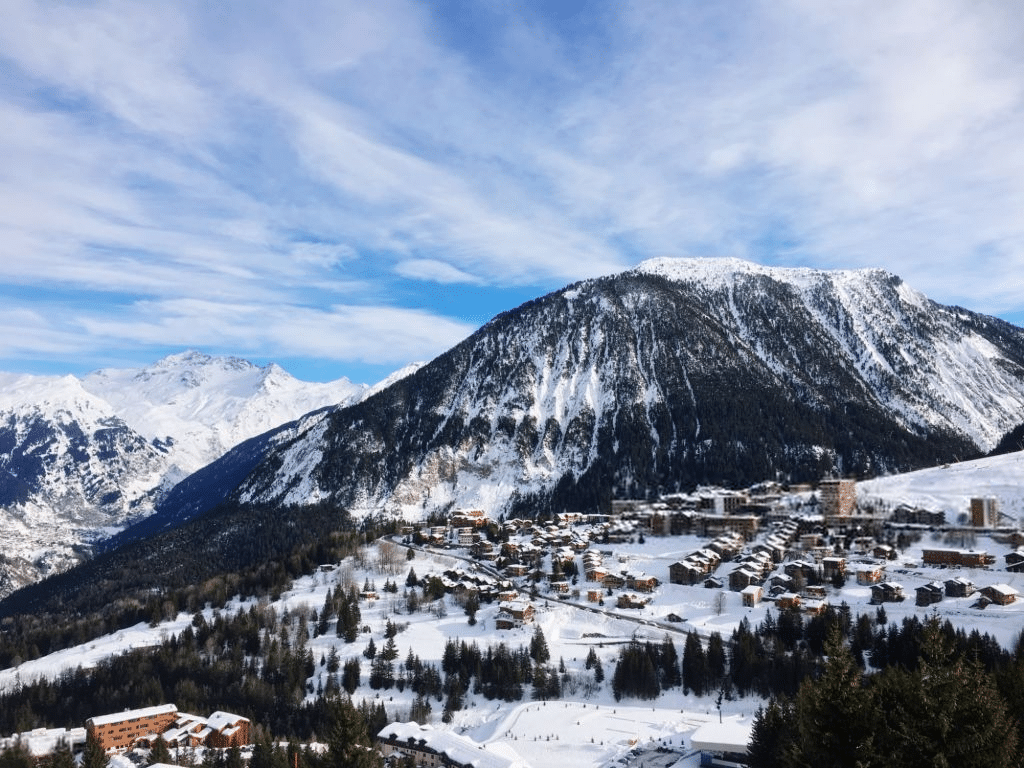 Other Enjoyable Activities to Do in Courchevel
Apart from skiing, there are tons of other things to do in Courchevel, such as the Toboggan Run from 1850 to 1550. The 5-star hotels are excellent for a luxurious stay at the resort. You'll get to enjoy the fireworks displays, as each year experts put on a show in each of the villages.
You can go to the Aquamotion center under Moriond, which is filled with different activity options. There is an indoor & outdoor pool, hot tub, steam room, saunas, climbing wall, and much more. You can also find some of these in Courchevel 1850.
Fees for Transfer from Geneva to Courchevel
We provide services offering transfer Geneva to Courchevel. You can order our service of ski transfer from Geneva to Courchevel through our website here. We've provided an online calculator for finding out the fees for trips. You'll be able to put in your starting place, destination, timings, and headcount to find out the fee for your trip using our services for transfer Geneva to Courchevel. We have also provided a round trip option in case you are interested in Courchevel to Geneva transfer.
Perks of Using Our Services
We offer ski transfers from places, such as Geneva, Chambery, Grenoble, and Lyon to Alps resorts. You'll be receiving the following benefits by using our services for ski transfer Geneva.
Child seats provided in case you are traveling with kids
We offer refreshments during the transporting process
We provide professional drivers with English & Russian language proficiency
Courchevel is a great winter holiday destination for those who are interested in skiing as well. Feel free to contact us, or visit our website to find out more about our ski transfer services to the Alps.