Transfers from Lyon to Val Thorens
We provide transfer services to those who are seeking trustworthy Lyon to Val Thorens transfer. You can find out more regarding our transfer Val Thorens Lyon transfer service and the Val Thorens resort here, so read on.
What You Can Find in Val Thorens
Val Thorens sits at 2300 meters altitude in the Tarentaise Valley of the Savoie department of France. It is a part of the connected ski area of the Three Valleys with pistes covering over 6 hundred kilometers putting it among the biggest connect ski areas on the planet.
It is a purpose-built resort and also the highest located resort you'll find in the Three Valleys area as well as the whole of Europe. The high altitude provides guaranteed snow coverage during the November till May period.
On its own, Val Thorens provides pistes of over 140 kilometers, and it's in the perfect location for exploring the Trois Vallées ski area. It'll take you an entire day to get to the edge of the area for skiing, so it is better to enjoy the slopes that are nearby. Val Thorens has two hundred meters over its closest contender, Tignes. But its height can give you an Antarctic feel as the weather starts to act up.
Getting Your Skis Out in Val Thorens
Through its positives and negatives, Val Thorens keeps its lofty position constant. The primary attraction or feature of the place is the reliability of snow cover here. The village stands at 2300 meters, but there are seven different lifts topping out at three thousand meters or higher here.
Val Thorens' altitude helps to retain the snow starting from December till May. The resort is best visited during the start or end of a season. The thaws of mid-season affect the resort less, thanks to its altitude.
You can ski hard here no matter what level of a skier you're. This place is for people who love skiing. If you are a skiing expert looking for a challenge, head over to Bellecote's north face, La Grave or Chamonix for sustained, steep off-piste drops. For black piste, you'll want to go to St. Anton, but there's something for everyone in Val Thorens. So, you will want to explore the whole area to find great spots for skiing.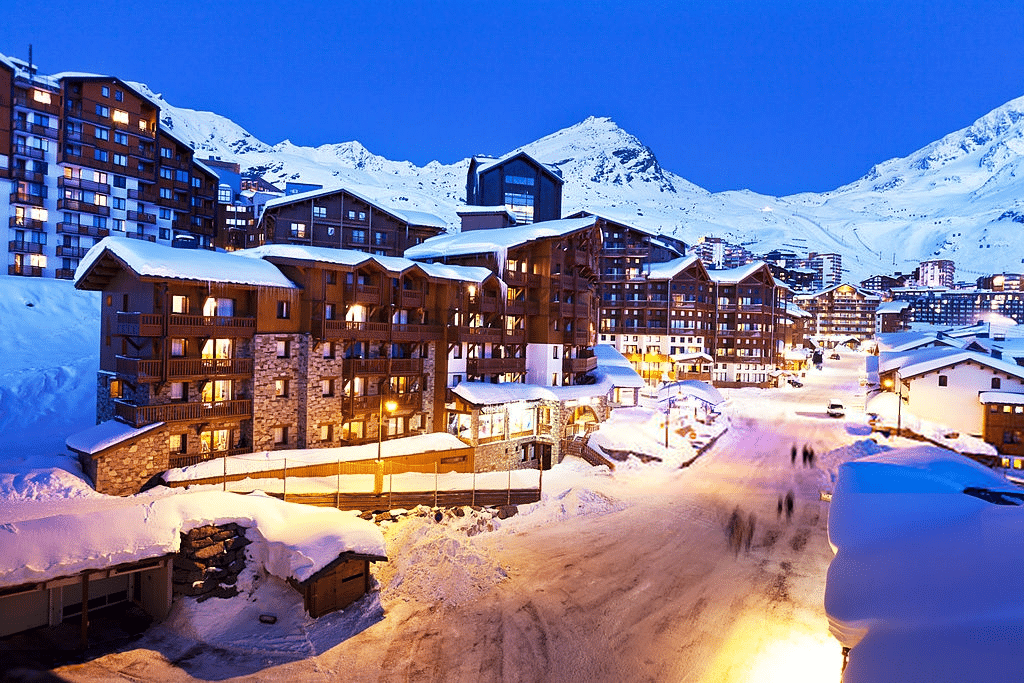 Activities for Non-Skiers in Val Thorens
Resorts now understand the importance of non-skiing activities, and Val Thorens is no stranger to this. Starting off, you can try mountain biking for an exciting experience on the snow. You'll head up using a mountain bike to ride the slopes down.
You could only reach the zip line on skis before, but with the addition of a lower zip line, pedestrians can access it as well. Then there's the helicopter tour you can go on if you want to enjoy looking at the beautiful sceneries of the Alps from above.
Moving on to other activities, you can ride around on snowmobiles, go for ice diving under a frozen lake, drive on an ice track at 2200 meters, go for a 3 kilometers toboggan run, snowshoeing, riding dog sleds, and do a lot more in Val Thorens.
Val Thorens Lyon Transfer Fees
We offer services offering ski transfer Lyon to Val Thorens. If you want to travel with us for Val Thorens Lyon transfer with your family or friends, you can check out our ordering page. For the order, we will require information regarding the number of people to transfer Lyon to Val Thorens, and the time to pick-up from Lyon airport. You'll see the required fee for your Val Thorens Lyon transfer as you put in the information. You can choose a return trip on the order page for Val Thorens to Lyon airport transfer. For transfer Val Thorens to Lyon, we'll need a second pick-up time for the return trip.
Features of Our Transfer Service
We provide transfer Lyon to Val Thorens as well as from different locations, such as Grenoble, Geneva, and Chambery to the resorts in the Alps. You can enjoy the following features if you order our Lyon to Val Thorens transfer or transfer Val Thorens to Lyon.
– Refreshments for your Lyon to Val Thorens transfer
– Special child seats in case you bring children for transfer Lyon to Val Thoren
– Professional drivers for a safe ride during Lyon to Val Thorens transfer
– Drivers are proficient in Russian as well as in English
If you want the perfect place to visit for this winter holiday season, Val Thorens would be a great choice. To travel with us from Lyon to Val Thorens order a trip right away on our website, or contact us in case you have any type of queries.