Transfer to Les Arcs from Lyon
Our ski transfer service can take you and your family from Lyon to Les Arcs ski resort. If you're interested in learning about our Les Arcs transfer service as well as the resort itself, keep on reading.
Discover the Beautiful Les Arcs
Les Arcs is located in the Savoie Department of France, and specifically in Bourg-Saint-Maurice's town named Tarentaise Valley. The resort belongs to the giant Paradiski system with a largely varied collection of slopes. The skiing area here is connected with its neighbor resort, La Plagne.
The original village of Les Arcs is 1600, and later came the Arc 1800, which is a few kilometers away from it. You can get to it from Arc 1600 using a shuttle bus, and there's also the Arc 2000. The resort has developed a more chalet, low-rise style, which includes the Arc 1950.
There's a quick lift system here with many fast chairs to take you around the ski area, and the reliability of snow here is great. You'll find runs of more than 2000 meters here. In addition, you will see stunning views to La Rosière and Mont Blanc.
Arcs 2000, 1950, and 1600 here are quite compact and suitable for people visiting with families. You'll find Arc 1800 to be fairly spread out with apartments a bit distant from the center. There's also a great selection of restaurants and bars here.
Skiing in Les Arcs Resort
The ski area in Les Arcs has a maximum altitude of 3226 meters, however, the good pistes here are quite low. These lie between 1600 meters and 2400 meters. This makes the resort perfect for skiing during the mid of winter. The low slopes here will suit the intermediate skiers. You will find the slopes to be confidence-boosting, broad, and well-groomed.
The storms and clouds add details to the slopes here, so you will be able to have fun while people in Tignes and Val Thorens retreat indoors. If you're confident with your skiing skills, you can take on the Aiguille Rouge peaking at 3226 meters and dropping down to Villaroger at twelve-hundred meters. That is over two thousand meters vertical drop in one drop.
You will enjoy the snow most once a blizzard has passed during the morning time. That is, provided that the piste-bashers have groomed the pistes. If you're a beginner, the best place for you would be the Arc 2000, but it can get fairly crowded during the winter holiday season.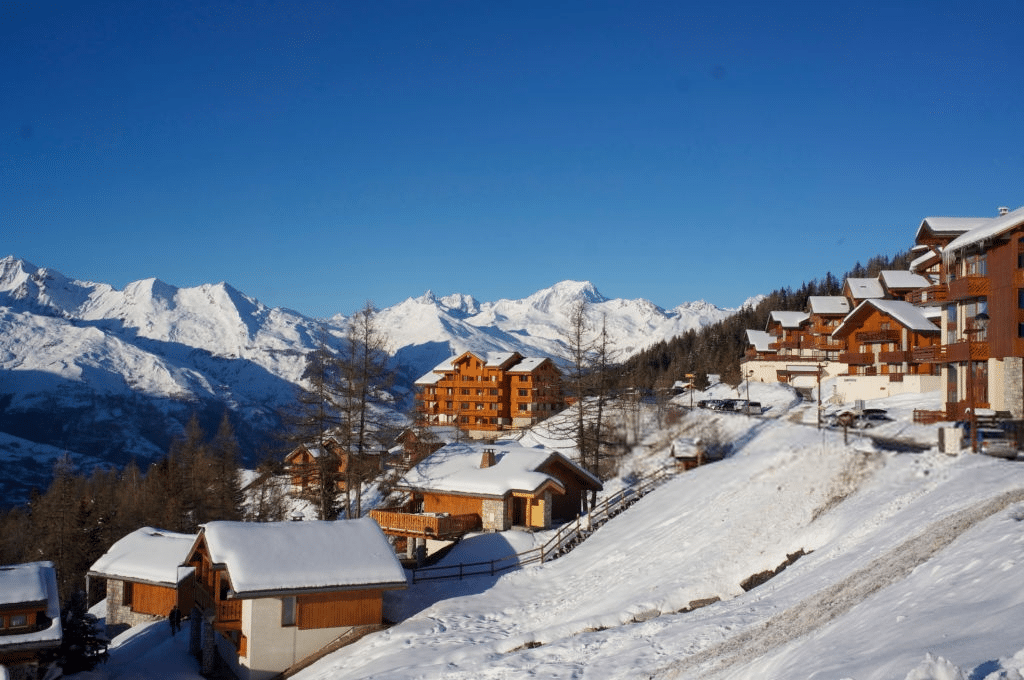 Other Activities in Les Arcs
Getting tired of all the skiing in Les Arcs? Fret not because there is a ton more activities you can do in the ski resort. You can find loads of spas in the resort if you're looking for some pampering. Moisturizing facials, deep-tissue massages, they have it all. There are saunas, Jacuzzis, steam rooms, and swimming pools too if you're interested.
When it comes to cuisine, you can find both international, and local dishes here, such as English breakfast, Savoyarde tartiflette, and Thai curry. You'll find bars that provide dance floors, themed nights, board games, pool tables, and live bands for an exciting experience. If you're too tired from staying on the ground all the time, hop on the helicopter ride to get a beautiful view of the Alps' landscape.
If these aren't enough to satisfy your adventurous soul, you can also try out paragliding, sledging, and taking sleigh rides.
Fees for Lyon to Les Arcs Transfer
Our drivers will provide safe, hassle-free Les Arcs transfer, whether you are going there alone or in a group. We offer a convenient ordering process on our website that only takes a few clicks to complete. All you have to do is, put in your information about the number of people travelling, your pick-up and drop off location, and timings for the pick-up. You can also choose whether you want a round trip or not for Les Arcs to Lyon transfer. Our online calculator will show you the required amount of fee you'll need for the order.
Our Service Benefits for You
We provide Lyon to Les Arcs transfer as well as transfers from different locations such as Chambery, Geneva, and Grenoble. You can safely travel with us to the beautiful ski resorts in the French Alps. Additionally, you will be receiving the following benefits for choosing to travel with us.
– Refreshments are provided for your transfer to Les Arcs
– Special seats provided for your children
– Our drivers are experts, and they'll ensure a safe trip
– For the convenience of communication, our drivers can speak in Russian & English
Les Arcs has a lot to offer for its visitors, and even if you aren't looking to ski, you'll have a great experience in the resort. Order a trip with us today through our website, or reach out to us for any type of queries.