Transfers from Lyon to Courchevel
We offer transfer services to take you to Courchevel from Lyon whether you're going there to spend holidays alone, or with friends and family. If you want to find out more about our Courchevel transfer as well as what the resort has in-store, read on.
What Courchevel Has In-Store for You
The ski resort from French Alps, Courchevel, belongs to Les Trois Vallées. The Three Valleys or Les Trois Vallées is among the largest linked ski areas on Earth. You'll find the resort to be divided into four major towns or villages. These are, Courchevel 1850, Courchevel 1650 or Moriond, Courchevel 1550, and Courchevel 1300 or Le Praz. The names of the villages are based on their meter altitudes.
Though Courchevel's center stands at 1747m, it was named Courchevel 1850 for marketing purposes, in competition with Val d'Isere. The actual area representing the named altitude is Jardin Alpin. You'll find local slopes covering runs of 150 kilometers here. This includes 10 black, 32 red, 35 blue, and 23 green slopes.
The villages here are connected by road, pistes, and lifts. There's also a free-of-cost bus service that's running between the villages. Though the names of the base villages got renamed back in 2011, people still refer to them using their altitude-based names.
Get Your Skis Ready for Courchevel
The majority of Courchevel's attraction lies in its skiing facilities. The resort offers slopes that can easily rank at the top when you consider the Alps region. What makes it irresistible is the combination of this resort, La Tania, Val Thorens, Les Menuires, St. Martin de Belleville, and Meribel in the lift system of Les Trois Vallées.
Courchevel is at its peak for skiing during the mid-winter season. You'll get the most out of this place from Christmas till February. During this period, you'll find pistes ranging in 1100m-2739m. Moriond and 1850 are perfect for beginners. They provide gentle runs as well as some great British schools for skiing. You'll find 1850 to be fairly expensive, and ritzy, whereas Moriond offers a quieter and low-key experience.
There's plenty here for intermediate skiers as well with the smooth and wide pistes. If you are more of an advanced skier, you'll find Le Grand Couloir to be quite attractive. It ranks among the steepest blacks found in the European region. Keep in mind that Courchevel isn't the best for freestylers who are serious about what they do. The resort is friendlier towards families, and intermediates nowadays.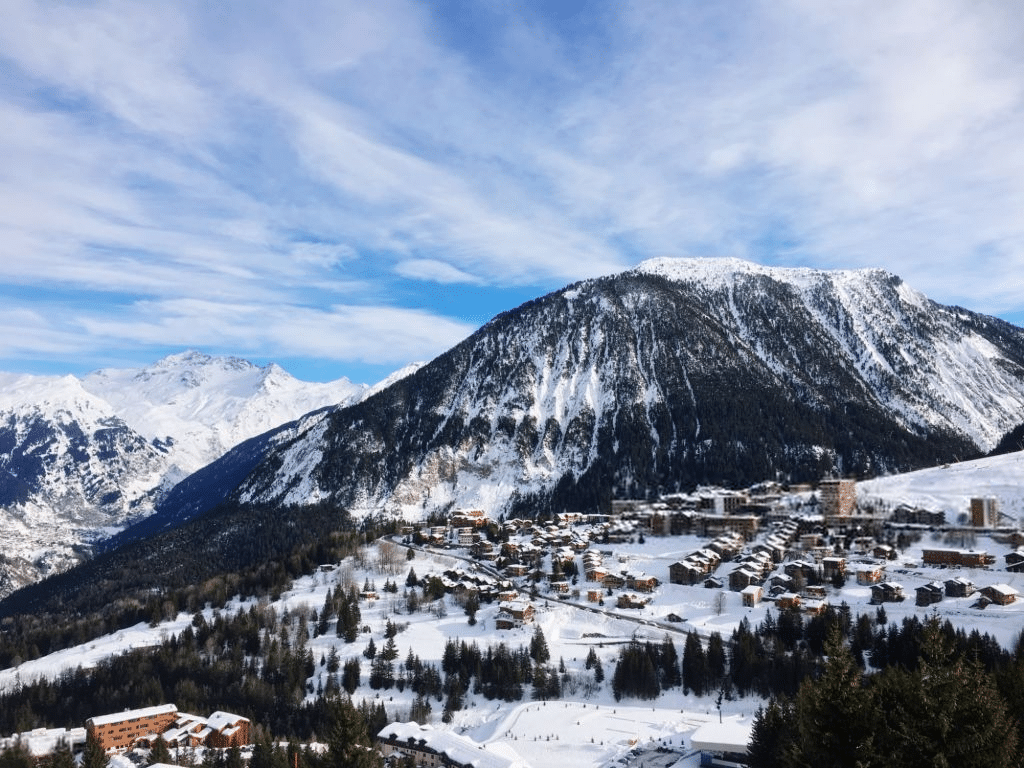 Other Highlights of Courchevel
Skiing might be a main attraction of Courchevel but fret not as there is plenty more to do while you're not in the mood for skiing. The first thing you can do is, go exploring the summits using the lifts on foot. Then there is winter hiking with a ton of hiking trails all around the area varying between easy and hard.
Savoyard cuisine is a must-try if you're visiting Courchevel. You'll be able to sample pierrade, tartiflette, fondue, or raclette in the restaurants here. If you're in 1850, you can go to Le Forum, which provides an ice-skating ring, bowling alley, climbing wall, arcade, and shopping mall in a single place. You can get some of the latest gear for skiing here along with souvenirs. There are snowmobile rides if you are feeling adventurous, but if you want to take a dip or relax in a spa, go to Aquamotion between Moriond and Courchevel Village.
Lyon to Courchevel Transfer Fees
Our professional drivers can provide transfer Courchevel Lyon services, and you can conveniently order a Lyon to Courchevel transfer trip on our website. You'll be able to find out the cost of your Courchevel transfer with our online calculator. The fees for Courchevel transfer are dependent on various factors, such as how many people are going, whether it's a round trip or not, and the starting and destination points. You'll be able to pick the time to get picked up both in the case of going to Courchevel and returning.
Extra Benefits Offered with Our Services
You can order our services from places like Lyon, Grenoble, Geneva, and Chambery. In addition to our hassle-free Courchevel transfer, we provide extra benefits for our customers.
– You'll have special seats if you are traveling kids
– You'll be provided refreshments for the transfer
– We'll provide drivers who are the best at what they do
– Our drivers can speak Russian as well as English for your convenience
Whether you want to go on a holiday trip alone, or with family for the winter season, you can't go wrong with Courchevel. We'll pick you up from Lyon airport and take you safely to the beautiful resort. Check out our website to find more information regarding our transfer services, and reach out to us for your queries.