Transfers from Geneva to Les Arcs
Les Arcs resort is a delight with its combination of a great stay and fun-filled skiing. If you want to go transfer from Geneva to Les Arcs, our expert drivers will take you there.
What's Waiting for You in Les Arcs
The Les Arcs ski resort is situated in the Bourg-Saint-Maurice's Tarentaise Valley area. It's a beautiful place to visit in Savoie of France. Roger Godino and Robert Blanc built it initially, and it belongs to the Paradiski system with La Plagne. The entire thing is under the ownership of the Compagnie des Alpes.
As you visit the resort after transfer from Geneva, you'll find a wide range of different runs. Its lift system has been improved drastically with only a few older chairs remaining. If you're an intermediate skier, you can get the lift upgrade pass for the Paradiski system and get access to La Plagne's slopes spreading 225km. You can get there using the Vanoise Express double-decker cable car.
You'll find the village bases here, each offering something different. The bases named after their heights, 2000, 1950, 1800, and 1600 all offer a great deal of traffic-free apartments with good value.
Go Skiing in Les Arcs
Les Arcs is like a ski area of 2 large ridgelines that are parallel to each other while one is quite higher than the other. In between them, there's the hanging valley of high-altitude. The best skiing among its parts is the north-west side.
Though the area's highest point is at 3226 meters, most of its best pistes are quite low. They hover between sixteen hundred and twenty-four hundred meters. Midwinter is the best time to come here for the holidays, if you want to go skiing. It's perfect between the time of the end of December till February.
You will enjoy skiing in its lower slopes if you are an intermediate skier. A lot of Les Arcs's best pistes can be found above Vallandry, Arc 1800, and Arc 1600. Most of them have tree-lines for their lengths part. You'll find the pistes to be confidence-boosting, well-groomed, and broad.
For those who are more experienced in skiing, the piste of Aiguille Rouge is perfect. It starts from the peak at 3226 meters and ends all the way down at the Villaroger village at twelve hundred meters. That's over two thousand meters of vertical descent.
Make sure that you keep an eye on the conditions of the snow before getting out there, once the piste-bashers have done their grooming work. The perfect time to get out there is right after blizzards in the morning. Cold, windy, and dry pistes should definitely be avoided.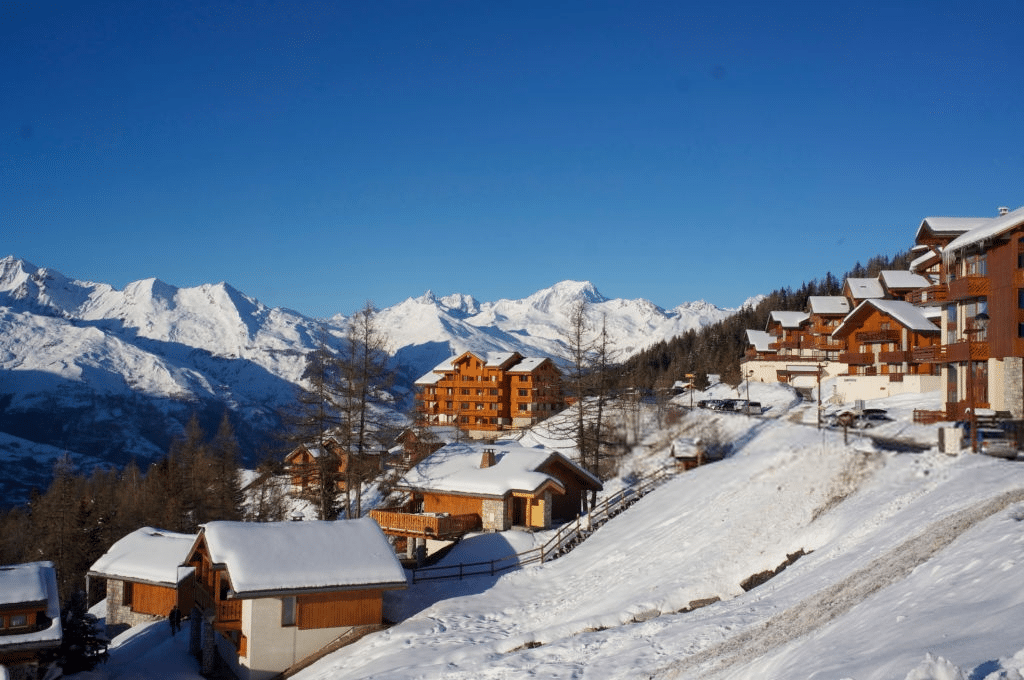 Things to Do in Les Arcs
There are some amazing restaurants in Les Arcs that serve both international and local cuisine. In 1950, you can get complete English breakfasts. You can find Savoyarde tartiflette for lunch in 1800, which is a traditional piece, and for dinner, Thai curry at Peisey.
Lots of bars are available all around Les Arcs for you to have fun. Some feature "happy hour" as the pistes close. You can get to enjoy bars with dance floors, themed nights, board games, pool tables, showing sport, and live bands here. The local establishments offer a great variety of drinks.
A special attraction of Les Arcs is the helicopter trip. You can take up to 4 friends or family members for this airborne experience of the Alps. The trips can last from ten minutes up to one hour. In addition to this, you can also enjoy fun activities, such as paragliding, sledging, and taking sleigh rides.
Transfer from Geneva to Les Arcs Expenses
We can take you from Geneva to Les Arcs with our ground vehicle transfer Geneva services. Our website contains all the necessary options for you to order a transfer from Geneva to Les Arcs. You can predict your transfer Geneva cost with the website calculator. There's a regular option for a one-way trip as well as a round trip option for transfer to Geneva airport. We provide competitive prices for your transfer Geneva needs.
What's Special about Our Services
If you need transfer Geneva services, we have the perfect solution for you. We take people from Grenoble, Geneva, Lyon, and Chambery to the Alps resorts. The following perks help us to stand out from the competition.
Special seats for your child
During transfer refreshments for you
Professional drivers who can speak in Russian as well as English
Want to book a one-way or a round trip to Les Arcs? You've come to the right place. Contact us if you have any queries, or look for what you need on the website.