Transfers from Lyon to Tignes
We provide ski transfer services for people looking to transfer from Lyon to Tignes as well as back. You'll have to read on to find out more about our Lyon to Tignes transfer service, and the resort itself.
What You Can Find in Tignes
Tignes is a resort found in the Rhône-Alpes region of France's south-eastern part. This place is well-known for having a great amount of skiable area in the European region. It's in the Savoie department and has good links for transport, to Chambery, Geneva, and Lyon.
Val d'Isere and Tignes form the ski area known as Espace Killy, and their proximity creates a seamless connection between the ski areas. These two resorts together offer pistes of over three hundred kilometers. Tignes's snow cover, long-lasting season, and impressive terrain make it an extremely snow-dependable destination for winter holidays in the Alps.
Seventy-eight lifts are here for serving the skiers and visitors. Though there is a seamless connection between the two, you will notice that Tignes is quite different in character from Val d'Isere. The main villages of Tignes are purpose-built, set up on a gorgeous mountain plateau.
Five villages make up the ski resort, and among them, Val Claret at 2100 meters offers easy entry to the glacier. Along with Tignes Le Lac, Val Claret offers a convenient stay with a wide range of shops, restaurants, and hotels. You can find cheaper places to stay in the lower area named Tignes Le Lavachet.
Tignes Skiing Guide for Travelers
Combined with Val d'Isere, Tignes offers pistes covering over three hundred kilometers, and off-pistes of ten thousand hectares. Skiing here is mostly above tree-line here. After a snowstorm or low cloud blows, the entire place turns white, and you can't see anything. You can compensate for this by getting a guide to show you around.
The main three villages here are at 2100 meters altitude, and skiing is mostly above that. Slopes rise to around 3400 meters on the glacier of Grande Motte. A few key runs here are facing north, so the snow remains cold in spring for longer.
Compared to Val d'Isere, Tignes is more catering toward the intermediate skiers. If you are an intermediate, you are going to have a blast, given the weather is good. The pistes are great for cruising and are wide, and gentler. The nursery slopes here are not the best for beginners to enjoy as some are quite steeper considering their grade.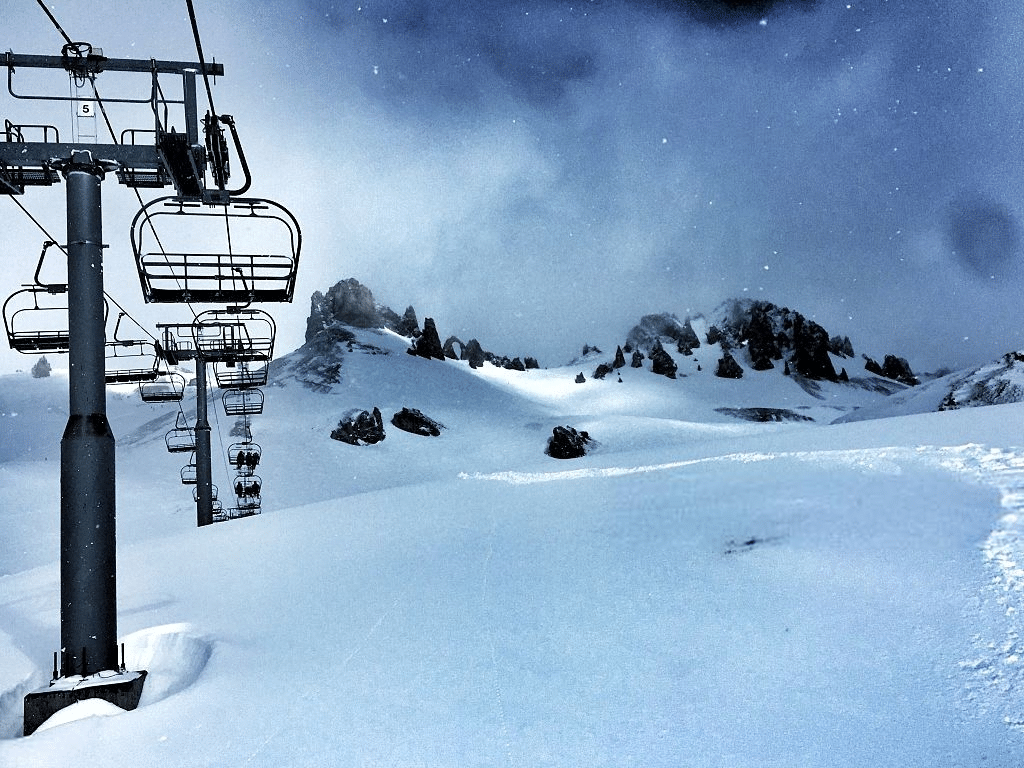 Fun Things You Can Try in Tignes
Skiing might not appeal to everyone visiting the Tignes resort for holidays. If you are one of them, there's still a plethora of other activities to do here. You'll be able to take part in ice diving, enjoy Savoyard meals, nighttime sledging and do a lot more in Tignes.
You can walk over the frozen lake to Val Claret from Le Lac. The peaceful walk will take about thirty minutes to complete. There's also an option to try out ice skating by the Le Lagon lake. Pala'Fou is another three kilometers tobogganing slope to end your day in an exciting way.
If you still have excess energy to burn, try renting the Tignespace complex for bouldering wall, climbing-wall, indoor football, trampolines, or even other sports like badminton and tennis. You can also try out swimming, spas, massages as well as the cafes and bakeries while visiting Tignes.
Lyon to Tignes Transfer Costs
If you're worried about choosing a transfer service for your Tignes Lyon transfer, we've got your back. You'll be able to book a trip with us for your Transfer from Lyon to Tignes. For ordering, you can check out our website here. Once you're on the ordering page, you'll have to provide information regarding how many people will be transferred, whether you want a round trip, the locations for drop off and pick-up, and time for pick-up. In case you choose to go with a round trip, you'll have to provide pick-up time for your return as well for Tignes transfer.
What Additional Benefits We Provide
We can pick you up from places, such as Grenoble, Geneva, Lyon, and Chambery. There are additional benefits that you receive with our services. You'll get the following perks for your Lyon to Tignes transfer with us.
– There will be refreshments for you during the transfer
– We provide child seats if you're bringing your child with you
– Our drivers are able to speak in both Russian & English
– We provide professional drivers to ensure a safe trip for you
You can't really go wrong with choosing Tignes as your holiday destination for a great experience. Feel free to reach out to us with your queries or you can check out our website to find more information regarding your Lyon to Tignes transfer.